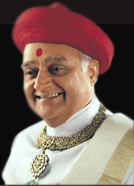 A cherished dream and brainchild of Shree TejendraPrasadji Maharaj, Shree Swaminarayan Museum stands resplendent today, to be inaugurated on Tuesday, 8 March, 2011. A doyen among the highly revered Swaminarayan acharyas, Shri TejendraPrasadji Maharaj had had the vision for the museum years ago. He voluntarily retired from the Acharyaship to personally supervise the museum to its completion and dedicate time in ample measure to His precious vision. These painstaking measures have resulted in a serene edifice that stands testimony to the vision devoted to conserving Bhagwan Shree Swaminarayan's personal effects/belongings and extending their spiritually benevolent aura to anyone who might visit the monumental museum.
The museum, located on a sprawling campus of 25,000 m2 at Naranpura, Ahmedabad, has come up under the auspices of the Swaminarayan Mandir, Kalupur. This is a campus of a profound aesthetic, architectural, and spiritual amalgam. The management of the museum intends to ensure that the museum retains its raison d'être and grows manifold in fame and splendour.
Proceeds from Shri TejendraPrasadji Maharaj's 60th birthday were, under His insistence, dedicated to this project. His wish has been complied with. However, this being a small amount as compared to the sheer enormity of the project, it is expected that followers will donate generously, and Shri TejendraPrasadji Maharaj hopes that people will come forward to make a resounding success of the project.