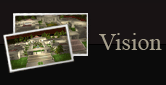 This museum is a dream concept of Shri TejendraPrasadji Maharaj. He had conceived it years ago. He opted for voluntary retirement to initiate steps toward its fulfillment and find ample time to dedicate to His vision. He has conceived a single campus for the museum as well as the temple. He has arrangements in place to ensure that it lasts forever. It would be the responsibility of the museum's managing body to ensure that the museum retains its raison d'être and climbs the loftiest heights of both splendour and fame. Shri TejendraPrasadji Maharaj's 60th birthday was celebrated under the condition that proceeds from the celebration would be dedicated to this project. His wish has been accorded due compliance, but this is a small amount as compared to what needs to be put into the mega project. Followers are expected to donate generously, and Shri TejendraPrasadji Maharaj hopes that people will come forward to make this event a whopping success.

Today, the museum stands tall and magnificent, ready to serve its divine purpose. It is a 175,000 sq. ft. mega complex built upon 25,000 m2 at a total project cost of
10.5 million. It houses exhibits that date back to more than 225 years, being personal belongings of Bhagwan Shree Swaminarayan. Even as one enters the humongous porch, one starts taking in the serene ambience in complete awe. However, as one progresses, the tranquility that forms the essence of the structure takes over the body and the mind. A grey-brown granite floor leads to the central courtyard that is lush green with grass. Effervescent fountains rise up as if in prayer, on the right-hand side. On every side of this inviting courtyard stand vast halls to house the exhibits as well as facilities. Even the lighting used glows with just the right luminescence to calm the mind and heal the soul.

The museum has been set up with all due reverence for environment. Instead of bricks, fly ash blocks have been used for the structure and fewer windows have been used to ensure minimal use of wood. Solar and wind energy power the air-conditioned museum nestling within a green cover of three hundred trees. An underground reservoir is used to store rainwater. Windows will be double-glazed and insulated, along with two outer walls and an insulated ceiling to help maintain an ambient temperature and save electricity. The architect had been asked to pay special attention to giving it a soothing and pleasing look. One of the ideas that went into the making of this exquisite edifice is the division of the museum into smaller units so that a person may visit one unit and come out to relax for a while. Another unit can be a fresh start, to be visited on either the same day or some other.

An auditorium will be a part of this museum. In addition, for out-station or foreign visitors, both boarding and lodging will be made available on the museum campus itself.